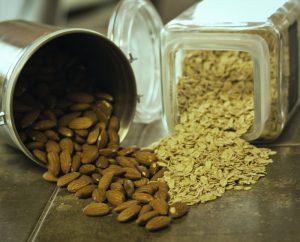 Photo, courtesy of Crunchy Betty
I have been using
Crunchy Betty's daily scrub
for a few weeks or so now. And it has made a DRAMATIC improvement for my skin. I tweaked it a little bit to fit my personal preferences, (added a drop or two of honey, and a drop or two of Dr. Bronner's magic soap onto my wash cloth before I wash my face with it.)
The only thing the scrub consists of is 50/50 crushed almonds, and crushed oats. I poor a little bit into a small bowl and add a few drops of water, honey, and Dr. Bronner's soap.
After the cleans I swipe a bit of apple cider vinegar, diluted in water, over my whole face.
My last step is a very small amount of Aloe Vera gel, a few drops of tea tree oil, and a few drops of vitamin E oil, mix it in my hands, and gently massage over my face.
And that's how I cleans my face day and night. It has made such an improvement. I have always struggled pretty hard with acne, and in the last week, it has nearly diminished to nothing!